Faridah, Mohd Sobri (2017) Pengukuran tahap kesedaran kitar hayat bangunan di Jabatan Pembangunan dan Penyenggaraan (JPP), Universiti Utara Malaysia. Doctoral thesis, Universiti Utara Malaysia.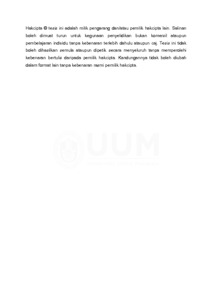 Preview
Text




s818170_01.pdf


Download (3MB) | Preview

Preview
Text




s818170_02.pdf


Download (2MB) | Preview
Abstract
This study presents the concept of building life cycle that has recently been implemented in our country. Therefore, the main aim of this study is to verify the measurement of building life cycle awareness among the employees at Development and Maintenance Department (JPP), UUM. This study also involves a contribution to
academic knowledge and practical knowledge to improve quality in construction industry and the sustainability of a buildings. This study also represents a new approach and a initial study compared to previous studies that more focused on costs, asset management and building performance while a few pervious researcher
explored the importance element in building life cycle especially on the driving force which is the workers directly involved in construction industry activites. Therefore, this study provides a new approach in building life cycle by concentrate the building life cycle awareness among the construction workers that focused on two view of main dimensions which is knowledges and implementation. 201 respondents involved in this study with the scope of the study are technical workers at JPP but only 101 respondents response the questionnaire which is contructed by a 5 likert scales. The finding of this research confirm and prove that building life cycle awareness are measureable by knowledges and implementation. Also the technical staff in JPP have a high level of building life cycle awareness. Several test have been used in this study such as normality test, factor analysis, reliability test and descriptive test a statistically prove and support the research findings.
Actions (login required)