Rasak, Majid (2018) Economic performance of contract broiler farming in Malaysia. PhD. thesis, Universiti Utara Malaysia.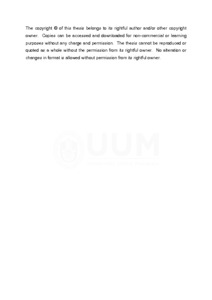 Preview
Text




s95204_02.pdf


Download (495kB) | Preview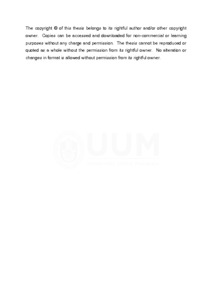 Preview
Text




s95204_01.pdf


Download (1MB) | Preview
Abstract
Integrated broiler contract farming (IBCF) is one of the systems that increase poultry production in Malaysia. Generally, broiler farmers participate in this system to reap some attractive benefits. This study examined the economic performance of the contract broiler farmers (CBFs) and the potential relationship between participation and profit. The survey was conducted in Perak, Johor and Pahang to determine the factors that influence farmers' participation in the IBCF system. The study featured participation as the dependent variable together with independent variables, namely size of farm, the experience of the farmer, age, gross annual income, distance of farm to market center, and capital. The results from logit model indicated that all variables, except age, are statistically significant and have the potential to affect farmers' participation in IBCF. The pooled ordinary least square analysis was used to evaluate the economic performance of the CBFs. Size of farm, feed conversion rate, average body weight, average marketing age, mortality rate, and chicken rearing system are statistically significant and considerably influence the performance of CBF. Also, there is evidence of a positive relationship between participation and profit. Based on these findings, the study suggested that the close house system would be the best option for broiler farming. Thus, the government suggest to provide tax reduction to those who implemented close house system. Besides, it is recommended that the integrators with the cooperation of Department of Veterinary Service or the integrators themselves should provide the technical service to improve participation and the economic performance of the CBFs. This would eventually improve the broiler management and broiler production.
Actions (login required)