Abdulganiyy, Abdulfattah Kolawole (2018) Determining liquidity risk, profitability and cost efficiency of Islamic banks in selected OIC countries. PhD. thesis, Universiti Utara Malaysia.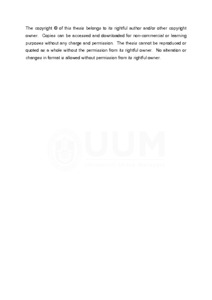 Preview
Text




s900155_01.pdf


Download (2MB) | Preview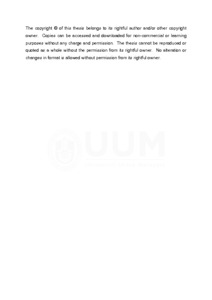 Preview
Text




s900155_02.pdf


Download (657kB) | Preview
Abstract
Liquidity risk in banks is a major issue following the 2008 Global Financial Crisis and 2014 oil price fall. The absence of Shariah-compliant liquidity instruments also accentuate liquidity problems in Islamic banks. The banks also face cost efficiency issues in addition to liquidity risk that affect their profitability. The main objective of this study is to examine liquidity risk determinants of Islamic banks in ten countries from Organization of Islamic Co-operation comprising Bahrain, Indonesia, Iran, Kuwait, Malaysia, Pakistan, Saudi Arabia, Sudan, Turkey and United Arab Emirate. Profit and Loss Sharing (PLS) contract and profitability were studied as mediators to explain the process through which relationship between liquidity risk and cost efficiency is affected. The study uses data of banks operating in dual and fully Islamic banking regulatory environments. Generalized Method of Moments was employed on 85 Islamic banks over 2005 to 2016 study period. The results show that cost efficiency and profitability ratios, Capital Adequacy Ratio and PLS are significantly related to liquidity risk. Similarly, Gross Domestic Product, Money Supply and inflation have significant influence on liquidity risk. It further highlights that profitability does mediates but PLS contract does not mediates the relationship between liquidity risk and cost efficiency. The implications of the results are that bank management, government and regulatory bodies of Islamic banks to manage the significant factors influencing liquidity risk effectively because they have direct impact on the banks' cost efficiency and profitability. This study contributes new findings in terms of reaffirming the reluctance of Islamic banks to use PLS contract since it increases liquidity risk. It is therefore recommended that the practitioners and policy makers to examine closely that PLS contract should be backed by long term capital to mitigate liquidity risk. This will ensure greater profitability of Islamic banks in the dual banking environment.
Item Type:
Thesis (PhD.)
Supervisor :

Zainol, Zairy

and

Ahmad, Nor Hayati

Item ID:
7288
Uncontrolled Keywords:
Liquidity Risk, Profitability, Cost Efficiency, Islamic Bank
Subjects:
H Social Sciences > HG Finance
Divisions:
Islamic Business School
Date Deposited:
24 Jul 2019 01:43
Last Modified:
09 Aug 2021 02:46
Department:
Islamic Business School
Name:

Zainol, Zairy

and

Ahmad, Nor Hayati

URI:
https://etd.uum.edu.my/id/eprint/7288
Actions (login required)