Langkatharan, Muniyasamy (2018) Study on the sources of stress among lectures and instructors of WIT College. Masters thesis, Universiti Utara Malaysia.
Text




s818711_01.pdf


Restricted to Registered users only
Download (8MB)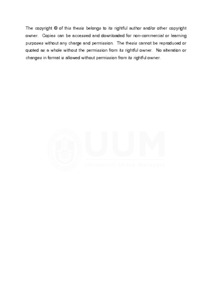 Preview
Text




s818711_02.pdf


Download (1MB) | Preview
Abstract
This is a study on occupational stress expe1ienced by lecturers and instructors of WIT College in the state of Selangor. The objective of this study is to prove that the cause of stress among lecturers and instructors is due to mainly five independent variables such as demand on staff, relationship with the management, control exercised, role to be played and support from management. A total set of 38 questionnaires were distributed and findings tabulated. The results of the findings of this study showed that generally lecturers and instructors of WIT College experience occupational stress. The most common factors that caused occupational stress among lecturers and instructors were lack of support from management, lack of facilities, lack of information about what is going on, lack of participation in decision making and feeling work not valued. It is also clear that there were no significant differences in the occupational stress levels among the different demographic variables such as gender, teaching program, marital status and education level. Based on the research findings it is recommended that organisation concerned should help the staff to achieve mental, emotional and physical preparedness to cope with occupational stress effectively.
Actions (login required)