Nazmeen, Shaik Daud (2018) Faktor-faktor yang mempengaruhi keberkesanan kursus profesionalisme diri unggul dan hubungannya dengan prestasi kerja peserta kursus. Masters thesis, Universiti Utara Malaysia.
Text




s820139_01.pdf


Restricted to Registered users only
Download (2MB) | Request a copy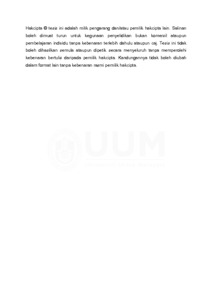 Preview
Text




s820139_02.pdf


Download (2MB) | Preview
Abstract
This study aims to evaluate the factor of effectiveness of Kursus Profesionalisme Diri Unggul and their relation to the performance of the participants who have taken the Kursus Profesionalisme Diri Unggul at the National Institute of Public Administration (INTAN) Bukit Kiara. The data were collected from 108 respondents through self-administered questionnaires. The results show that this course has had a positive impact on the course performance of the participants. Correlation
analysis shows that there is a high and positive relationship between the training dimension and
the performance of the participants after attending the course. Analysis also shows that there are positive relationships and significant differences between dimensions of work performance before and after the course. This study shows that INTAN has successfully played its role in providing competent, high performing and competent Civil Servants in providing the best service for Malaysians. Studies suggest that the management of INTAN should pay more attention to the satisfaction of the course participants, especially in the suitability of course objectives, speaker's expertise, methodology and teaching aids, the course environment and the whole course of the course to give the best impact on the performance of the course participants either in the run short
term or long term.
Actions (login required)