Weerawan Marangkun, , (2017) The determinants of brand equity in handicraft small and medium enterprise in Thailand. PhD. thesis, Universiti Utara Malaysia.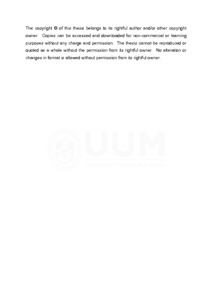 Preview
Text




s90419_01.pdf


Download (2MB) | Preview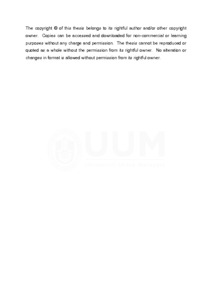 Preview
Text




s90419_02.pdf


Download (1MB) | Preview
Abstract
The handicraft industry in Thailand is uniquely endowed with fascinating cultural national heritage and fine artistic traditions. However, local promotions of these products are not rigorously conducted to reflect Thailand's culture through proper brand equity. Only 23% of them have their own brand name whereas the other 77% do not. Brand loyalty is treated as a mediator in this study since its mediating role is unknown in the handicraft industry. Hence, this study aims to empirically verify the determinants of brand equity for SME handicrafts and to examine the mediating role of brand loyalty as perceived by customers in Thailand. The specific objectives of the study are three-folds: (1) to examine the predictors of brand equity (2) to determine the predictors of brand loyalty and (3) to investigate the mediating effect of brand loyalty. The survey instrument consists of 15 latent variables and 70 items. Through quantitative survey, 500 questionnaires were distributed to customers of handicraft at producers' outlets in five regions in Thailand. The returned questionnaires were 419 representing 84 percent response rate. The data were analyzed using structural equation modeling analysis method which produces four significant relationships: (1) brand loyalty is positively related to brand equity (H1); (2) satisfaction is positively related to brand equity (H2); (3) competitive advantage is positively related to brand loyalty (H6); and (4) brand loyalty mediates fully the relationship between competitive advantage and brand equity (H9). It is imperative that handicraft consumers are loyal to a brand once they know about the brand (brand awareness), capture brand image, perceived the offering as quality product, have brand association and finally develop brand trust. The Thai handicraft product must establish its brand image, performed continuous brand awareness campaign, so that customers around the world will build their trust in Thai handicraft products.
Actions (login required)