Norsitta, Bahari (1995) Price-Quality Relationship At Car Boot Sales. Masters thesis, University of Surrey.
Text




NORSITTA_BAHARI.pdf


Restricted to Repository staff only
Download (492kB) | Request a copy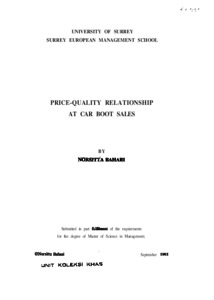 Preview
Text




NORSITTA_BAHARI_95.pdf


Download (520kB) | Preview
Abstract
Price is one of the major determinants of buying behaviour and product choice. For some consumers, they perceive the price as an indicator of product quality. The aim of this dissertation is to investigate a part of consumer buying behaviour at car boot sales, focusing on their perception on price and price-quality relationship of the product sold
at car boot sales. The research was carried out on consumers of car boot sales in Guildford, Sheffield and Cardiff. The data was collected via questionnaires in which
respondents were asked to give their responses based on their shopping experience, including the most commonly item they shop for at car boot sales. The main findings of this study show that most of the consumers at car boot sales were only buying on price. They viewed price in its negative role and were very concerned for paying lower prices. The lower the price, the more willing they are to buy the item. Because of the product price at car boot sales are mostly very cheap, consumers found that it was very difficult to relate the price to the quality of the product. However, in some cases, they did relate the price to the quality of the product but the relationship was very weak. They also very difficult to agree the old saying 'you get what you pay for' because usually at car boot sales they receive more than what they pay for. Car boot sales are becoming a big business. More research should be done in this area in order to improve the quality of car boot sales as a whole; as a place for shopping and recycling.
Actions (login required)