Busen, Salem Mohamed S. (2018) Relationship between brand characteristics and attitudes towards advertisement among Libyan students in Malaysia. PhD. thesis, Universiti Utara Malaysia.
Text




Depositpermission_s95670.pdf


Restricted to Repository staff only
Download (56kB) | Request a copy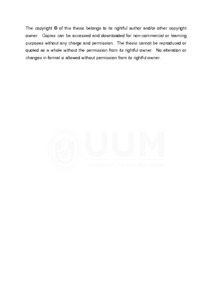 Preview
Text




s95670_01.pdf


Download (4MB) | Preview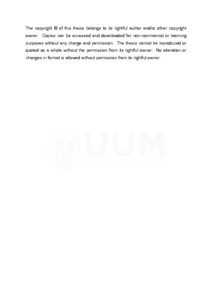 Preview
Text




s95670_02.pdf


Download (2MB) | Preview
Abstract
This study aims to determine the factors that affect Attitude towards Advertisement and assess the impact of Attitude towards Advertisement on Brand Equity. With digital media proliferation, brands are the main assets for a company to survive in the competitive marketplace. Advertisement expenditure for both print and online advertisements has failed to bring in the desired results in terms of change in attitude of the consumers and brand equity. Moreover, the answer to the question on which advertisement media has a more effective impact on Attitude towards Advertisement to create brand equity still remains unanswered. Therefore, the current research aims to identify the potential factors that affect Attitude towards Advertisement and compare both types (print and online advertisements) to find out the best advertisement medium that can determine Attitude towards Advertisements and Brand Equity. The data was collected from 300 Libyans studying in different universities in Malaysia. A quasi-experimental research design was applied to know the consumers' preferences for print and online advertisements. The results of ANOVA test show that online advertisement has a greater ability to represent the focal constructs as compared to print advertisement. After confirmation, the hypotheses were tested using data of online advertisement constructs with the help of SEM-AMOS. The results of the analysis show that Message Appeal, Argument Quality and Interactivity, have a significant relationship with Attitude towards Advertisement. Furthermore, Attitude towards Advertisement has a significant relationship with Brand Awareness, Brand Image and Brand Purchase Intention. This study contributes to the existing body of knowledge by expanding the use of the Elaborate Likelihood Model of Persuasion, Persuasive Hierarchy Framework and Consumer-Based Brand Equity Model for creating Brand Equity among consumers. Moreover, the findings from the current study can be helpful for companies to devise more effective advertisement strategies, use their resources more efficiently and develop strong online advertisement campaigns.
Item Type:
Thesis (PhD.)
Supervisor :

Mustaffa, Che Su

and

Mohamad, Bahtiar

Item ID:
7454
Uncontrolled Keywords:
Perceived Advertisement Credibility, Message Appeal, Argument Quality, Intimacy, Interactivity, Attitude towards Advertisement, Brand Equity
Subjects:
H Social Sciences > HF Commerce. > HF5801-6182 Advertising
Divisions:
Awang Had Salleh Graduate School of Arts & Sciences
Date Deposited:
13 Oct 2019 05:47
Last Modified:
13 Oct 2019 05:47
Department:
Awang Had Salleh Graduate School of Arts and Sciences
Name:

Mustaffa, Che Su

and

Mohamad, Bahtiar

URI:
https://etd.uum.edu.my/id/eprint/7454
Actions (login required)