Nuramah Hayikaleng, , (2018) The effects of utilizing YouTube on lots and hots questions in reading comprehension and motivation among Thai students. PhD. thesis, Universiti Utara Malaysia.
Text




Depositpermission_s95835.pdf


Restricted to Repository staff only
Download (83kB) | Request a copy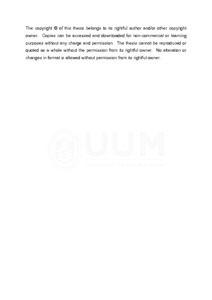 Preview
Text




s95835_01.pdf


Download (4MB) | Preview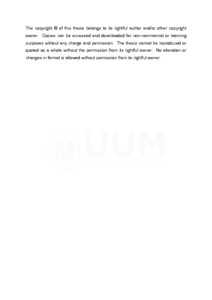 Preview
Text




s95835_02.pdf


Download (2MB) | Preview
Abstract
Many studies show that English as a Foreign Language (EFL) Thai students are weak in their reading comprehension due to less attractive and ineffective teaching methods. Although YouTube is a very attractive and effective tool in teaching and learning English, it is not widely used among teachers in Thailand. The purpose of this study was to investigate the effects of utilizing YouTube on Thai students' performance in Lower Order Thinking Skills (LOTS) and Higher Order Thinking Skills (HOTS) comprehension questions and their motivation towards EFL reading comprehension. The study also explored students' and teachers' perceptions on the utilization of YouTube and conventional lecture method in teaching reading comprehension. The quantitative data were gathered from the pre-test, post-test and questionnaires and were analysed using Independent Samples T-test. The qualitative data from the semi-structured interviews were analysed based on emerging themes. Finding from this study indicated that the utilization of YouTube significantly enhanced students' LOTS and HOTS comprehension and their motivation towards reading. The qualitative findings also indicated that YouTube is a very effective tool in teaching and learning EFL comprehension. The students stressed that You Tube enabled them to guess the meaning of difficult words which helped them to understand the reading text better. The YouTube also made the lesson more fun, interesting and students could concentrate on their reading lesson. The teacher stressed that YouTube helped to enrich the students' prior knowledge and enhance their comprehension. This study revealed that YouTube could be systematically utilized for improving students' reading comprehension for LOTS and HOTS. Students are also more motivated and interested to learn English when the YouTube is used as compared to the conventional lecture method. The use of YouTube can be incorporated in the syllabus through the Teacher's Training Division and the Ministry of Education.
Actions (login required)