Vinothan, Marathan (2017) The influence of safety climate on safety performance: A study on the contractors of Motorola Solutions, Penang. Masters thesis, Universiti Utara Malaysia.
Text




s816635_01.pdf


Restricted to Registered users only
Download (1MB) | Request a copy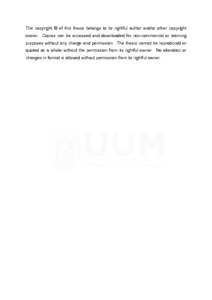 Preview
Text




s816635_02.pdf


Download (847kB) | Preview
Abstract
This study aims to determine the influence of safety climate on safety performance of the contractors engaged for renovation works for Motorola Solutions Bhd. The study focussed on the following six dimensions of safety climate, which are management safety practices, supervisor safety practices, safety attitudes, safety training, job safety and co-worker safety practices. It also focussed on two dimensions of safety performance, which are safety compliance and safety participation. 80 sets of questionnaires were distributed to employees of the construction contractors at Motorola Solutions Bhd, Penang to test their perceptions on safety aspects. SPSS software version 19 was used for quantitative data collections. It involves the analysis of descriptive statistics, testing of the reliability, Pearson correlation test and regression test. Pearson correlation testing found a significant positive correlation between almost all dimensions of safety climate and safety performance and its components. Meanwhile, regression test shows that management safety practices and supervisory safety practices have an adverse impact on the safety performance components. Meanwhile, only the safety climate, safety attitude is non-significant on safety performance dimensions based on the analysis. Lastly, implications of the study were discussed as well as provide recommendations for future studies.
Actions (login required)