Mattoasi, , (2018) Keberkesanan perlaksanaan model pengukuran prestasi kerajaan berasaskan model LAKIP : kajian kes ke atas kerajaan bandar Gorontalo, Indonesia. PhD. thesis, Universiti Utara Malaysia.
Text




s92385_01.pdf


Restricted to Registered users only
Download (2MB) | Request a copy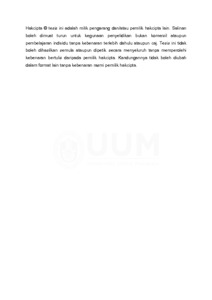 Preview
Text




s92385_02.pdf


Download (1MB) | Preview
Abstract
The call for public sector entities to increase accountability is consistent with the economic rationale suggesting the need for government to ensure an added value for every single public money disbursed on programmes, especially when available fund are limited. Hence, the Indonesian government upgraded its performance measurement model of Local Financial Administration Manual (MAKUDA) into a Government Agency Performance Accountability Report (LAKIP) performance measurement model based on Presidential Instruction No.7, 1999. The goal was to provide local government greater ability to drive its entitlement towards better performance management. A preliminary study on the government of Gorontalo City found that even after 18 years of implementation, the effectiveness of LAKIP implementation tends to rely solely on financial performance measurement. This indepth study aimed to identify the effectiveness of LAKIP, explore factors that impede its effectiveness and recommend improvements for
the effective implementation of LAKIP. This study used qualitative method with case study approach. Data from documents, interviews and observations were analyzed using Content Analysis and Interactive Model. The findings show that the effectiveness of the LAKIP model is less successful as most government programmes only achieved output performances. The theory of accountability cautions that managers must work as trustees of public funds to drive the organization's performance to a better level. When the level of accountability is identified, government managers must work to take advantage of every situation towards achieving maximum level of performance as a form of accountability to the public. The findings suggest some improvements which include the need to conduct performance audits on programmes and activities. Future quantitative studies may be able to provide a more comprehensive picture of the scenario in all district and city governments in theState of Gorontalo.
Actions (login required)