Zango, Adamu Garba (2016) The effect of audit committee, risk management committee and block holder ownership on IFRS 7-financial instruments disclosure compliance of financial institutions in Nigeria. PhD. thesis, Universiti Utara Malaysia.
Text




s95223_01.pdf


Restricted to Registered users only
Download (1MB)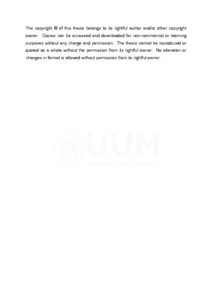 Preview
Text




s95223_02.pdf


Download (806kB) | Preview
Abstract
The main objective of this study is to examine the extent of compliance with International Financial Reporting Standards 7 (IFRS 7) financial instruments disclosure requirements by listed financial institutions in Nigeria. In addition, this study investigates the relationship between corporate governance characteristics and IFRS 7, and also examines the moderating role of blockholder ownership on the relationship between corporate governance characteristics and IFRS 7. Panel data from the annual reports of 50 sampled financial institutions which consist of 20 banks and 30 insurances companies for a period of 3 years (2012-2014) were used in the study. Findings of the study indicate that the compliance with IFRS 7 is at 51% and showed steady improvement. In terms of risk type, the compliance was found to be lower in market and liquidity risk as compared to financial risks. The audit committee size, expertise, independence and meeting frequency are found positively and significantly affect IFRS 7 compliance. Similarly, risk management committee independence shows positive relationship with IFRS 7 compliance. The interaction between blockholder ownership and audit committee independence and risk management committee independence with IFRS 7 compliance shows significant and positive relationship. In this regard, the policy makers in Nigeria should formulate forward looking policies aimed at enhancing the role of independence in the audit and risk management committee to bring about strong internal control activities. They should also strengthen dealings on financial relationship between blockholding investors and minority shareholders to restore the confidence hitherto enjoyed by the Nigerian financial institutions. Findings of the study provide the needed input for policy formulation and decision making in Nigerian financial institutions.
Actions (login required)