Azman, Ismail (2018) Improving project disbursement process in a Malaysian shipyard. PhD. thesis, Universiti Utara Malaysia.
Text




Depositpermission_s95119.pdf


Restricted to Repository staff only
Download (28kB) | Request a copy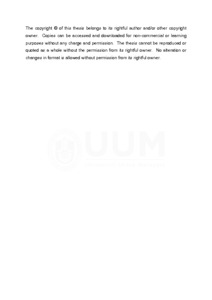 Preview
Text




s95119_01.pdf


Download (40MB) | Preview
Abstract
This study is about the deployment of Business Process Reengineering (BPR) in a Shipyard to resolve the problem of the project disbursement process that has caused a significant delay in approving a statement of work progress (SOP). A revamping effort to reduce the SOP approval cycle time and gain a cost saving from the process is a target to be achieved. The research used a qualitative method with the interactive action research cycle to revamp the project disbursement process. To assess the revamping exercise, 946 SOPs from three ship repair projects were elected and analyzed. Each SOP was grouped based on how long it took to get the approval: (a) 0 - 2 days, (b) 3 - 4 days, (c) 5 - 6 days, and (d) more than 7 days. To reduce ERTC, a Force Field Analysis (FFA) by the BPR team members was conducted. Twelve interviewees were selected from the Shipyard employees and subcontractors to give their response to the BPR deployment and ERTC. The analysis focused on the influence of the BPR CSF influence on
employees' perceived benefit of change (PBC), organizational commitment (OC). involvement in change (TIC), and attitude towards change (ATC). The findings showed that the Shipyard managed to reduce the SOP approval cycle time up to 86%, gained a cost saving from the improvement process between 31% and 61%, and reduced ERTC using the BPR CSFs. The results of this research will enable the Shipyard to resolve its problem of the project disbursement process by eliminating the delay in approving an SOP and gaining a cost saving from the revamping process. The results help to understand further how to use BPR CSFs during project implementation to reduce ERTC and further extend the relationship between BPR, change theory, and resistance to change (RTC).
Actions (login required)