Talooh, Mohamed Ahmed M. (2007) E-Learning Strategy For Distance Learning Programme PACE UUM. Masters thesis, Universiti Utara Malaysia.
PDF




mohamed_ahmed.pdf


Restricted to Registered users only
Download (4MB) | Request a copy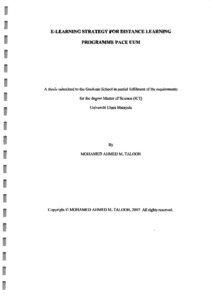 Preview
PDF




mohamed_ahmed-1.pdf


Download (1MB) | Preview
Abstract
Distance learning programme (DLP) was introduced by Universi ti Utara Malaysia (UUM) in 1998. E-learning system implementation in UUM is the Learn Care system,
where students can use lectures materials, group and individual assignment. This study intends to identify the current utilization of LMS among the distance learning students, and also to design e-learning strategies of UUM for distance learning program (PJJ).
Actions (login required)