Al Naji, Mohammad Anwer M. (2008) Mobile Based Multi-Appointment Management System For ITU-UUM. Masters thesis, Universiti Utara Malaysia.
PDF




Mohammad_Anwer_M._Al_Naji.pdf


Restricted to Registered users only
Download (1MB) | Request a copy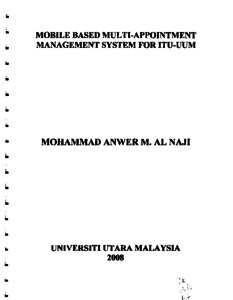 Preview
PDF




Mohammad_Anwer_M._Al_Naji.pdf


Download (269kB) | Preview
Abstract
Managing appointment for the executives in any institution and especially to bring different people from different places together is really hard to coordinate. Technologies improve lives as many people are going to benefit from Information and Communication Technology to reduce time and effort in doing routine work. The objectives of this study are to develop and evaluate a mobile based multi-appointment
management system. The proposed system would be easier to coordinate meetings. Moreover, the users will be aware of any modification or cancellation on the appointment timing. The system requirements have been achieved for these
objectives. It is called Mobile-based Multi-Appointment Management System M-MAMS which was modeled, prototyped, and evaluated throughout this study. This study will also propose a new scheduling technique that relies on a managerial hierarchy of the meeting system of ITU-UUM ASP CoE.
Actions (login required)