Arjunaidi, Mohamed (1997) Faktor Demografi, Persekitaran Dan Organisasi Yang Berkaitan Dengan Ketegangan. Masters thesis, Universiti Utara Malaysia.
PDF




Arjunaidi_Mohamed.pdf


Restricted to Registered users only
Download (1MB) | Request a copy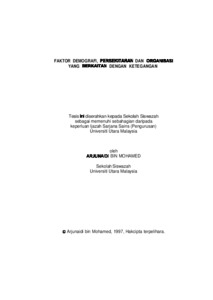 Preview
PDF




1.Arjunaidi_Mohamed.pdf


Download (220kB) | Preview
Abstract
Recently, there have been issues involving police officers in the misuse of power which gave a negative image to the police force. To counter these problems, the management imposed tighter procedure to ensure the officers would not misuse the power they have. However, with the tightening of the procedure, it was observed that the stress level among the officer also increased. Besides that, the officers are also having problem in fostering a good relationship with the public. As law enforcers they have to maintain some distance in their relationship with the public. However, at the same time police officers also need the full cooperation from the public especially in crime prevention and detection. They need information and public support to ensure effective policing. With the changes happening in the society officers have to adjust their paradigm or their way of thinking that is from being a law enforcer to an agent who gives service to the public. To have a good relationship they need to create a good image to the public. Those factors contribute to stress among police officers. This study therefore looks into the phenomena, and will investigate the contributing factors.
For that purpose the researcher used stratified random sampling to choose the respondent from the Kangar Police District. By using descriptive analysis, multiple regression, correlation and ANOVA the researcher found that among the factors contributing significantly to
stress are marital status, educational background, working
environment, social relationship, organizational structure, work load and organizational culture. Age factor, rank in organization and working experience however are not significantly contribute to the stress level. The study also found that the stress level among the
officers in Kangar are quit low eventhough they have negative perception on other factors that was found to be correlated and related significantly with stress. The future study therefore needs to explore further the other factors that may contribute to stress.
Actions (login required)