Bahari, Mat (1997) Kepuasan Kerja di Kalangan Guru-Guru Sekolah Menengah Di Felda Jengka. Masters thesis, Universiti Utara Malaysia.

Preview
Text




Bahari_Mat.pdf


Download (1MB) | Preview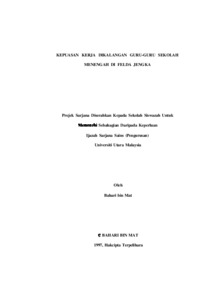 Preview
Text




1.Bahari_Mat.pdf


Download (266kB) | Preview
Abstract
The studies were undertaken to see whether job factor and non job factor can determine the level of job satisfaction among teachers in 6 secondary school in Felda Jengka. Job factors, such as salary, years of service, job situation and promotional opportunities. Where as non job factors are gender, age, colleague and working place.
205 teachers were choosen by simple random sampling in this study. The questionaire instrument by Brayfield-Rothe (1951) were used to measure the job satisfaction. T-Test
and One Way ANOVA were used to test the differences. To test the relationship, Coeffecient Pearson Correlation 'r' were used. Significant are at the probability of P<0.05.
Findings shows that 134 teachers (65.37%) were moderately satisfied, 62 teachers (30.24%) were highly satisfied and 9 teachers (4.39%) were less satisfied.The overall job satisfaction mean score are 61.20 shows that job satisfaction are moderate. Findings also shows that for job factor only job situation and promotion opportunity
are significantly related with job satisfaction. Where as salary and years of service can't determine job satisfaction. In non job factor only colleague and working place shows the significant relationship with the job satisfaction, where as gender and age can't determine job satisfaction. Multiple regression analysis shows that teacher's satisfaction are strongly influenced by the non job factor i.e working place.
Actions (login required)