Jamaludin, Mustaffa (1997) Jenayah Rogol Di Negeri Kedah : Satu Kajian Kes Ke Atas Penjenayah/Banduan Di Penjara Alor Setar. Masters thesis, Universiti Utara Malaysia.
PDF




Jamaludin_Mustaffa.pdf


Restricted to Registered users only
Download (2MB) | Request a copy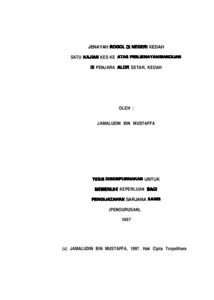 Preview
PDF




1.Jamaludin_Mustaffa.pdf


Download (433kB) | Preview
Abstract
The emphasis of the study are upon Rape Crime. The respondents of the study are carried on eight convicted rape crime prisoners whom are now serving jail sentences at the Alor Setar Prison Center. The interview / questionnaire done upon the selected respondents were chosen at random in order to identify the profile, alighment/trend, causes of involvement, cases relatives and the push factors which ancourages rape cases. On the other hand, the emphasis upon self behaviour, background and socio-economic factor whether there are relations with the rape events that occur.
The findings of the study shows that every incidents have the motives as follows i.e. there are relations between the rapist and the victim because in most cases indicated such existence and the act was consented by the victim, some rapist take advantage upon underaged victims especially to their own daughters, neighbours daughters, girlfriend, in other words, the rapist comes from all walks of life. There are instances that the rapist might have the intention to commit other crimes such as robbery before committing rape. Besides that, some rapist might be influenced with the sex act from viewing phonographic videos/pictures etc and there are rapist which had a high sex desire which could not be control and as a result commit rape.
Various ways and methods have been utilise including strengtheing the existing laws. However the implementation does not prevail. In contrast more rape cases and other social ills increase and cannot be curb by the Government.
The researcher's opinion upon solving rape crime and other criminal offences in the enforcement of the Islamic Syariah Law (hudud) in total.
Actions (login required)