Phun, James Jin Eng (1997) Consumer Buying Decision Process : A Customer Profile Of Proton Cars Buyers From 1992 To 1995. Masters thesis, Universiti Utara Malaysia.
PDF




James_Phun_Jin_Eng.pdf


Restricted to Registered users only
Download (6MB) | Request a copy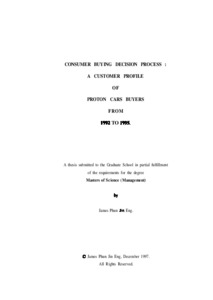 Preview
PDF




1.James_Phun_Jin_Eng.pdf


Download (403kB) | Preview
Abstract
The market domination of EON in the domestic passenger car market is not surprising given the company's management rather proactive reactions and abilities towards changes in the business environment. This market share has been able to provide a database of customer information in the determination of this customer profile as it reflects the rising affluence of the Malaysian car buying population. Various marketing models were examined to provide some initial manifestation of the subject but not one single model has sufficiently explanted these purchasing decisions. The present chosen linear regression model has, however been able to provide an initial understanding that
the influence of these variables - customer profiles - have a measurable ranking value. Namely what affects a customer in his decision to purchase a particular Proton model as distributed by EON. The final invoiced price which is determined by these customer profiles is thus, a manifestation of these influences. The presence of powerful statistical packages on the personal computers has made significant improvements in the analysis and the results were tabulated as such. The Bivariate Correlation analysis has indicated a linear regressed relationship among the variables used and the Pearson Product-
Movement Correlation Coefficients can explained sufficiently if not fully the relationships of these correlation coefficients. A single major customer profile was not and could not be determined as there NOW exists different segmented markets for different Proton models sold. This is also perhaps due to the nature of EON's marketing practices. This initial limiting understanding was than further examined and a distinct customer profile was generated for a each particular Proton model as such. This linear regression model's forecasting ability can be further developed and refined as need be. This must be seen against the perceived saturation level of the domestic car market and increased market competition in due time.
Actions (login required)