Ngeh, Hong King (1997) School Service Quality and Student Achievement. Masters thesis, Universiti Utara Malaysia.
PDF




Ngeh_Hong_King.pdf


Restricted to Registered users only
Download (2MB)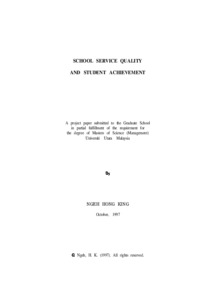 Preview
PDF




1.Ngeh_Hong_King.pdf


Download (151kB) | Preview
Abstract
The aim of this study is to examine the relationship between school quality service and student achievement in secondary schools. The relationship between school
quality service and student achievement was observed. The school service quality was also determined. The difference between gender achievement, and the difference in achievement of student from different places of residence were also discussed. Data were gathered using questionnaire. Data were processed using SPSS 7.5 Win. Correlation, stepwise regression, t-Test and ANOVA were carried out. The population consisted of 217 students from two schools.
Results from the study showed no significant relationship between school service quality and student achievement. There is also no significant difference between quality service in the two schools. There are significant differences in achievement between gender and the places of residence of the students.
Based on this study, it is suggested that the management should look intor other factors and conduct further studies to improve student achievement in schools.
Actions (login required)