Nor Aiza, Zamzam Amin (1998) "Empowerment" Dalam Keberkesanan Pengurusan Sekolah. Masters thesis, Universiti Utara Malaysia.
PDF




Nor_Aiza_Zamzam_Amin.pdf


Restricted to Registered users only
Download (1MB) | Request a copy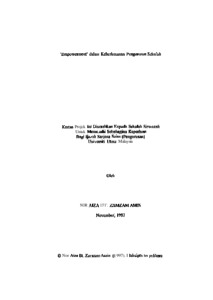 Preview
PDF




1.Nor_Aiza_Zamzam_Amin.pdf


Download (211kB) | Preview
Abstract
This study examines the perspective and opinion of a group of educators regarding the management of their principal in the school, where empowerment is being practised. This study is a case study done in a fully-residential school in Perak, namely Sekolah Tuanku Abdul Rahman, Ipoh (STAR). This study is an exploratory research, whereby it follows the qualitative method. Five respondents are interviewed and some observations are done to get the result of this case study. The outcome of the interview is mostly based on the respondents' experience and opinion. The result of this study reveals that the principal of STAR has successfully implemented 'empowerment' in the school. This can be seen through the result of the interview where 9 out of 10 characteristics of a well-managed principal is achieved in the school. The principal is seen as a person with leadership quality, managing with interpersonal aspects, does not believe in hierarchy structure, believing that cooperation and giving ideas are important elements, having committees and reporting to one head helps the effectiveness of empowerment. However, monitoring
is rarely done in the school and it is suggested that the school pays more attention into it. Finally, the way the principal manages his organization effects the implementation of empowerment in the school. Therefore, this tells us that empowerment leads to effective school.
Actions (login required)