Adiyanti, Mohd. Nor (2003) Kesan Penilaian Prestasi Atas Produktiviti Pekerja. Masters thesis, Universiti Utara Malaysia.
PDF




ADIYATI_BT._MOHD._NOR.pdf


Restricted to Registered users only
Download (5MB) | Request a copy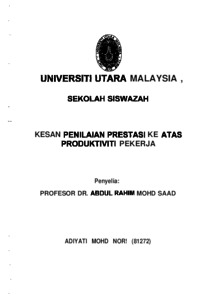 Preview
PDF




1.ADIYATI_BT._MOHD._NOR.pdf


Download (1MB) | Preview
Abstract
This study was conducted generally to identify the effects of performance appraisal on workers productivity. Specifically this study also explored the correlation between variables such as role perception, ability, trait and effort with productivity. A total of 200 respondents involved in this study were selected using the stratified random sampling method. Data was collected by distributing questionnaires based on the modification of questionnaires by Weiss and Hartle (1997). Research data was processed using the SPSS software to obtain the frequency tabulation, mean value and correlations between variables. Three hypotheses were correlations between role perception, ability, trait and effort with workers' productivity. Based on the findings of the study a few recommendations and suggestions for future research discussed so that the study can be more meaningful.
Actions (login required)