Suriati, Abdul Aziz (2002) Virtual Reality In Education : Virtual Reality As a Tool In Learning and Teaching Process of a Commerce Subject. Masters thesis, Universiti Utara Malaysia.
PDF




SURIATI_ABDUL_AZIZ.pdf


Restricted to Registered users only
Download (9MB)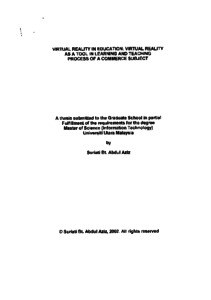 Preview
PDF




1.SURIATI_ABDUL_AZIZ.pdf


Download (1MB) | Preview
Abstract
The title was chosen for the preparation of this thesis because it was a part of the reason for me to continue my study in this area, to find a way to make the study
and learning Commerce more interesting to teach and to be learnt. This is because that this subject is more subjective and covers quite a wide area, but more often than not students tend to be bored and restless in the class. Even though the material selected and the drawing done was simple, it will give the students the actual picture of how the commerce of products and services is
done - starting from the production, distribution, marketing and others - from the producers until the products and services reached the end users. How a commerce process starts and how it ends will involve times, which is the main thing to be considered. Clock becomes the main model of this thesis as it symbolizes/signifies time. This meant a lot to me and to the users who understood the importance of time.
Actions (login required)