Syajaratuldur, Hamzah (2002) Teaching Mathematics Interactively Using TechMa. Masters thesis, Universiti Utara Malaysia.
PDF




SYAJARATULDUR_BT._HAMZAH.pdf


Restricted to Registered users only
Download (9MB)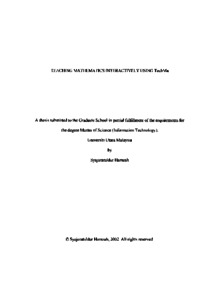 Preview
PDF




1.SYAJARATULDUR_BT._HAMZAH.pdf


Download (952kB) | Preview
Abstract
Early years are crucial to children's mathematical development. Children have shown that they are capable of mathematical thinking and knowledge as early as three years
old. Technology can support and enhance the teaching of mathematics for children by providing rich and fun learning environment. Computers an enhance children learning and allow children to explore without fear of failure. Interactivity helps children to focus on the content of input material because of its capability to provide feedback or reflect upon what children have done. The purpose of the project is to develop an interactive
website for teaching children mathematics. A prototype system called Teaching Children Mathematics or TechMa is developed using Macromedia Authorware 6.0 and Microsoft
Frontpage 2000. This prototype is intended for children from 3 to 6 years old, parents and teachers. Interactive Mathematics Website for Children is hoped to be able to attract children in learning mathematics at the early age. Limitations and recommendations are also discussed and presented for future enhancement of the prototype.
Actions (login required)