Syed Noor Pernama, Syed Idris (2003) Web Enabled Waiters Tracking System - A Prototype. Masters thesis, Universiti Utara Malaysia.
PDF




SYED_NOOR_PERNAMA_B._SYED_IDRIS.pdf


Restricted to Registered users only
Download (8MB)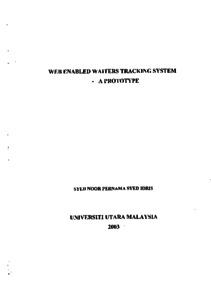 Preview
PDF




1.SYED_NOOR_PERNAMA_B._SYED_IDRIS.pdf


Download (915kB) | Preview
Abstract
Waiter, which is an applicant for telephone service is registered as a waiter when service cannot be provided owing to shortage of facilities. Waiters tracking are one of the vital elements in processes of Telekom Malaysia. The existing system, namely CASS (Customer Automated Service System) provides some tools for clearing waiters in the form of waiter reports and congested cable route report. However, these reports are managed manually, are not effective to fulfill the Telekom Malaysia mission and vision.
This project aims to deliver an efficient and effective system to replace the manual way of clearing waiters. This web-enabled system namely Waiters Tracking System should
definitely assist the state zone to clear waiters. The software development methodology used to develop this prototype is the Rational Unified Process (RUP) approach. This prototype was evaluated using User Interface Satisfaction Questionnaire to discover its functionality and usefulness. The results of the project development and project evaluation, and contribution of knowledge are described at the end of paper.
Actions (login required)