Aboalayon, Khald Ali I. (2005) An Experimental Study of Classification Algorithms Training Performance. Masters thesis, Universiti Utara Malaysia.
PDF




KHALD_ALI_I._ABOALAYON.pdf


Restricted to Registered users only
Download (4MB) | Request a copy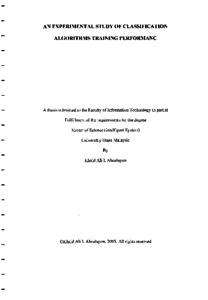 Preview
PDF




1.KHALD_ALI_I._ABOALAYON.pdf


Download (557kB) | Preview
Abstract
This thesis evaluates the training performance of classifiers in terms of Root Mean Square Error (RMSE), Training Time and Complexity. The study was based on
different data set that were obtained from UCI machine learning database and tested by the WEKA software machine learning tools. The aim of this study is to experiment several classifiers with different data sets to find out the best classifier for a certain data set like nominal, numerical and both, according to the objective of this research.
Actions (login required)