Nadiyah, Elias (2005) The Effect of an Islamic Volitional Training on Volition, Academic Self-Regulation and Academic Procrastination. PhD. thesis, Universiti Utara Malaysia.
PDF




NADIYAH_BT._ELIAS.pdf


Restricted to Registered users only
Download (17MB)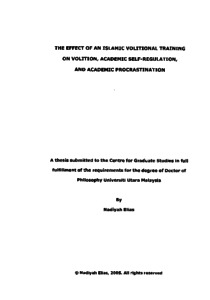 Preview
PDF




1.NADIYAH_BT._ELIAS.pdf


Download (3MB) | Preview
Abstract
The purpose of this study was to explore the concept of
volition according to the Islamic perspective. This was done by examining the effectiveness of an Islamic volitional training program in raising the level of volition, and its effect on the level of academic self-regulation and academic procrastination.
The first part of the study was a set correlational analyses among the measures used: These were measures for religiosity, musabarah or volition, academic self-regulation, and academic procrastination.
The second part of the study was a quasi-experimental prepost study involving three groups of students from a local university (n= 134). The treatment group was exposed to six weekly on hour sessions of an Islamic volitional strength training integrated with a time management skills training, while the comparative treatment group was given time management training with no volitional exercises. Both groups were educated on the concept of
procrastination. The no treatment control were only given pre and post questionnaires.
GLM repeated measure analysis and multiple t-tests among
the groups showed that the Islamic volitional treatment was
effective in significantly raising the level of volition and academic self-regulation, but the improvement for academic procrastination was not significant.
Female participants showed better overall scores in two out
of the three groups, and they showed better overall improvement, but the differences were not significant except for the established measures of volition.
Overall, high religiosity participants showed better scores
than their low religiosity counterparts, but they did not show better improvements.
Actions (login required)