Noor Hazlin, Abdul Rahman (2005) A Portal for Conferences. Masters thesis, Universiti Utara Malaysia.
PDF




NOOR_HAZLIN_BT._ABD._RAHMAN.pdf


Restricted to Registered users only
Download (6MB) | Request a copy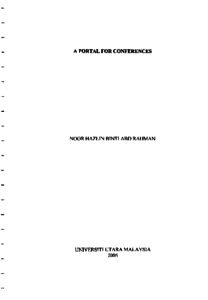 Preview
PDF




1.NOOR_HAZLIN_BT._ABD._RAHMAN.pdf


Download (1MB) | Preview
Abstract
Portal originally came to exist to help users to find information on the World Wide Web. A conference is a kind of forum for the discussion of some broad subject. This project attempts to develop a web-based information centre that specializes in promoting new conferences. Therefore, a portal for conferences is seemed to bridge up the communication between both organizations and users.
From the literature survey, several functionialities and features have been identified. The functionalities are then adapted in a prototype. Throughout this study, the evaluation of the prototype is been done which involved several participants in order to determine user satisfaction of a developed web portal in terms of the portal content, accuracy, format, ease of use, and timeliness.
In addition, the result shows that the prototylpe is working properly and than functionalities are be able to full fill most of user requirements. As a conclusion, the prototype still need further enhancement as it only focuses on IT areas such as Multimedia, Artificial Intelligence, Network and Security, Software Engineering and Information Management.
Actions (login required)