Mornizawati, Abdullah (2004) E-Brochure : User's Satisfaction and It's Influence to Communities (A Case Study at RIC Balik Pulau, Penang). Masters thesis, Universiti Utara Malaysia.
PDF




MORNIZAWATI_ABDULLAH.pdf


Restricted to Registered users only
Download (5MB) | Request a copy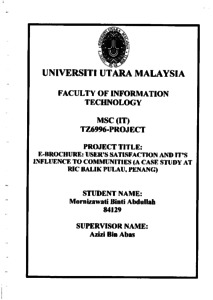 Preview
PDF




1.MORNIZAWATI_ABDULLAH.pdf


Download (979kB) | Preview
Abstract
ICT plays the main roles in social and economic changes. In the digital or information age, ICT plays as the main tool to influencing the social and economy. But several people such as communities at rural areas, the senior citizen and the women still stay at the behind of the changes. The different of this people were called digital divide. Digital divide exist in several segment such as location, across countries, gender, age, religious, education level, income level and so on. Many factors contribute too widely of digital divide phenomena. In Malaysia, rural Internet center (RIC) was introduced by government to bridge and shrinking the digital divide between communities at urban areas with communities at rural areas. This study is a part of effort to promoting the RIC. E-Brochure was produced to replace the traditional method (printed brocure) for promoting RIC. 75 respondents from targeted 100 population respondents were randomly selected to evaluate E-Brochure. Questionnaire adapted from QUIS (questionnaire for user interface satisfaction) were use as instrument to see how much the respondent satisfied with E-Brochure. Several elements such as content and ease of use from UIS (user information satisfaction) were put in questionnaire. The reliability of the respondents (70.03%) are overall satisfied using the E-Brochure. 56.54% respondents says that learning to use E-Brochure are easy and 62.65% says that the design are good. The E-Brochure's content are also can be defined as good (67.44%). 93.3% respondent thinks that E-Brochure can appeal them to come using the facilities that offered by RIC.
Actions (login required)