Siti Ermi Syahira, Abdul Jamil (2009) Perkembangan Seni Catan Moden di Malaysia. Masters thesis, Universiti Utara Malaysia.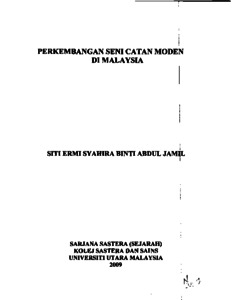 Preview
Text




Siti_Ermi_Syahira_Abdul_Jamil.pdf


Download (3MB) | Preview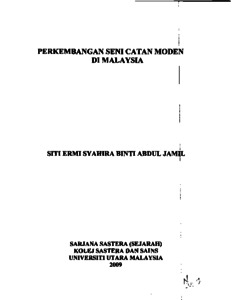 Preview
Text




1.Siti_Ermi_Syahira_Abdul_Jamil.pdf


Download (262kB) | Preview
Abstract
Malaysian Modern Painting Art is an art field which reflects Malaysian identity and its look. The beauty and fine aesthetic value shown through local artist masterpieces
symbolizes the greatest of tradition arts. Furthermore, this creative touch also reflects the uniqueness of Malaysian culture. Generally, the history of Malaysian Modern Art which began in the early 1930s gave prestige in painting art as a knowledge discipline in domain aspect. Starting from the earliest art movement with nature theme aesthetical focuses on Victorian Romanticism style, it moved to the art of Impressionism painting, then into the
manifestation art of 'avanr-garde modernism' and 'post-modernism'. It is a development of modern painting art in Malaysia. This positive development on the other hand establishes the Malaysian Modern Art. Therefore, this research is produced to analyze and document the history and
development of Modern Painting in Malaysia and also its relation to the development of visual art education subject. These phenomena are chosen because both fields
relate and hard to be divided even though in this Modernist Art era. This historical research is outcome through methodologies such as visual observation, respondent interview and referring to literature documentation. This research topic is classified into two main parts which is history and development of Visual Art Education subject. The factors contributed to the revolution and development in both art fields become the main focus. The relationship between Malaysian Modern Painting Art and Visual Art Education subject can be seen clearly. Hopefully, this
documented research outcome will be beneficial especially in education system. The outcome of this research obviously has several factors that influencing the developments of modern painting in Malaysia such as pre historical painting, west painting in 20th century, cultural influences, literal thinking of modernist art era, nationalism spiritual and great involving contribution of local artist. Otherwise, Visual Art Education is also contributing the development. The main factors that influencing through the developments of education system such as development in world of painting and also the implement of several changes in Visual Art Education in
Malaysia. The final result of research was clearly stated that the development of Malaysian Modern Painting and Visual Art Education subject was related each other. The outcomes hopefully can give impact in education system literally. Next research is suggested to do more explore about development of a Malaysian Modern Painting in 20th century and also about the effectiveness of implementation Visual Art Education curriculum in Malaysia. The aim is for observing the juxtaposition of 21st century Malaysian Modern Painting with development of Malaysian Visual Art
Education.
Actions (login required)