Norhayati, Abdullah (2004) Requirement Model for Local Government Enterprise Information Portal (EIP). Masters thesis, Universiti Utara Malaysia.
PDF




NORHAYATI_BT._ABDULLAH.pdf


Restricted to Registered users only
Download (6MB) | Request a copy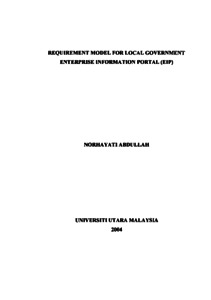 Preview
PDF




1.NORHAYATI_BT._ABDULLAH.pdf


Download (769kB) | Preview
Abstract
The purposes of this project are to identify the characteristics of local government Enterprise Information Portal (EIP), review the various methods use in capturing the requirement, and define a requirement model for local government Enterprise Information Portal. A requirement model is important as it serves as a good starting point for system developers to understand users' requirement, and it saves time, resources, and cost, reduces risk, improves effectiveness and efficiency and reduces ambiguity. The study focuses on two local governments portals for the purpose of requirement capture. The local governments' portals chose are Subang Jaya Municipal Council (MPSJ) portal, and Ampang Jaya Municipal Council (MPAJ) portal. Besides that Kota Star Municipal Council (MPKS) also becomes the fields of study to capture the users' requirements. The requirements captured from the MPSJ and MPAJ portals and requirements from MPKS are analysed and combined together to produce the requirements for local government in general. However due to time constraint this study only focuses on public user requirements. The requirements captured from the study are modeled out using Unified Modeling Language's UML notation. The models are use case packages, use case diagrams, and use case specification. Besides that systems architecture is also included. The prototyping technique is used to validate the requirements. In this technique, a simple prototype is developed by using PHP scripting language, MySQL Database server, Apache Web Server, and Macromedia Dreamweaver MX for interface. The portal system was validated using system requirements testing and Neilsen's Heuristic Evaluation method. It was concluded that, users requirements were met and the prototype system was operating well, however the functionality and interface of the prototypes were recommended for further improvement. This project concludes by discussing problems and limitations that were encountered in completing this project, and offers a few recommendations for future development in this subject.
Actions (login required)