Ramli, Shabudin (2004) Keperluan Latihan Profesional di Kalangan Pengajar : Satu Kajian Kes di Institut Kraf Negara, Selangor. Masters thesis, Universiti Utara Malaysia.
PDF




RAMLI_B._SHABUDIN.pdf


Restricted to Registered users only
Download (30MB) | Request a copy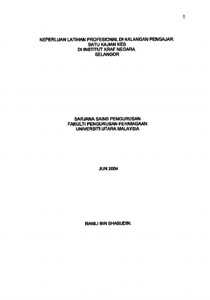 Preview
PDF




1.RAMLI_B._SHABUDIN.pdf


Download (7MB) | Preview
Abstract
This study was conducted with the aim to investigate the association or the relationship of gender, job position, benefits, external factors and internal factors in training in the efforts to improve the effectiveness of teaching and learning performance among the tutors at Institut Kraf Negara (IKN). The sample data or the primary information obtained for this study were gathered from the questionnaires distributed to fifty (50) respondents who were tutors at the IKN. Data were analyzed utilizing modalities like descriptive analysis, T Test and
correlations. Moreover, data were also collected from references made at the library. The outcome of the study indicates that there was a linkage between training factors and benefits. Thus training requirement are vital in the learning and teaching systems of tutors towards the attainment of excellence in the public institution of higher learning such as IKN. Appropriate steps need to be taken so that expertise and efficiency of tutors and training institutions are improved.
Actions (login required)