Rozianawaty, Osman (2004) Image Slicing Effect on Downloading Time. Masters thesis, Universiti Utara Malaysia.
PDF




ROZIANAWATY_BT._OSMAN.pdf


Restricted to Registered users only
Download (2MB)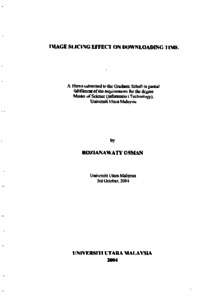 Preview
PDF




1.ROZIANAWATY_BT._OSMAN.pdf


Download (730kB) | Preview
Abstract
Today's world of globalization creates a fast moving environment. Everything needs to be done in less than a minute. Most of users use web as a medium to communicate
and even doing commerce and finding information. Thus, a fast download time is required to cope with this fast moving world. Longer load time might affect user to abort loading web page. One of the major contributions to the slow download time is image. One of the techniques used by the web designer is image slicing. The real impact of image slicing on downloading time is studied as there are some arguments on the reliability of the statement 'image slicing does reduce download time'.
Actions (login required)