Zaitu Akma, Mustaffa (2004) Pembangunan Keusahawanan : Satu Kajian Mengenai Pemasaran Produk Keluaran Persatuan Nelayan Kawasan. Masters thesis, Universiti Utara Malaysia.
PDF




ZAITU_AKMA_BT._MUSTAFFA.pdf


Restricted to Registered users only
Download (7MB) | Request a copy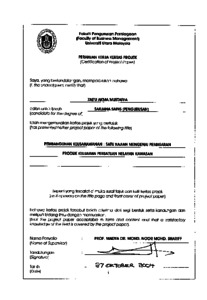 Preview
PDF




1.ZAITU_AKMA_BT._MUSTAFFA.pdf


Download (1MB) | Preview
Abstract
Entrepreneurship development in fishery sector has become more important nowadays. Marketing is important element for successful entrepreneurship development. Marketing
mix elements can influence purchasing decision made by consumers. This study being done to identify entrepreneurship development in Persatuan Nelayan Kawasan (PNK) which markets fishery product to consumers, through 4P"s marketing mix (product, price, place/distribution and promotion). The type of sampling being used in this study is
convenient sampling where 323 peoples in Perlis were involved. Data analyses being done are descriptive analysis and inferential analysis. All of the marketing elements have
a positive relationship with purchasing decision. However, consumer's demographic factors are not influencing the consumer's purchasing decision. This means that PNK should do product innovation so that the consumers will give a new perception about their product.
Actions (login required)