Nafed, Houssen Himeda Mohammed (2009) Web Based Expert System for i-Faraid. Masters thesis, Universiti Utara Malaysia.
PDF




Houssen_Himeda_Mohammed_Nafed.pdf


Restricted to Registered users only
Download (2MB) | Request a copy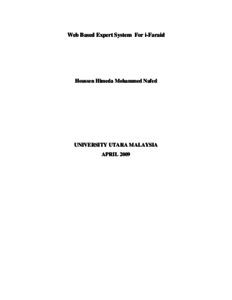 Preview
PDF




1.Houssen_Himeda_Mohammed_Nafed.pdf


Download (138kB) | Preview
Abstract
Expert system is one of the important Artificial Intelligence application. The design of the web based expert system for Islamic inheritance laws are different from conventional computer programs as they can solve problems by mimicking human reasoning, relying on logic, belief , rules of thumb, opinion and experience in Faraid. This thesis discusses web based expert system for Islamic inheritance law for all Muslims, and identify the rules of wealth distribution as stated in the Quran through a knowledge acquisition process with an expert in Faraid.
Actions (login required)