Awang Teh, Muhammad (1998) Usahawan Kraftangan oleh Bekas-Bekas Pelatih Perbadanan Kemajuan Kraftangan Malaysia. Masters thesis, Universiti Utara Malaysia.
PDF (Preview pages)




Teh.pdf

- Submitted Version
Restricted to Registered users only
Download (1MB)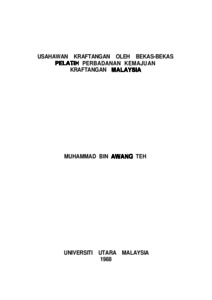 Preview
PDF




1.Teh.pdf


Download (186kB) | Preview
Abstract
The development of industrial sector helps strengthen Malaysian economic growth. It is possible because of the rapid expansion in the small and medium scale industry sector (SMI) which includes craft industry. In order to promote this particular region, Malaysian Handicraft Development Corporation was developed. The corporation organizes training program that produces the skilled and
proficient workforce that one day will participate in the business sector. Though the knowledge is traditionally passed from a generation to another, craft industry
is still considered as a new sector. Very few people choose to participate in this domain. This research is to identify what factors that made them decide to be in the business. Those factors are knowledge and skill, experience, market's
demands, competitions, guidance from institution and the source of funds. The entrepreneur characteristics that are under consideration are the virtual strength of business, business attitudes and the needs of achievement. The conclusion is that every factor mentioned has a significant relationship with the criterion. The market demand, knowledge and skill have an intermediate effect on those criteria while the others have minor effect. When all factors are under consideration, they do have meaningful and strong affinity with the entrepreneur characteristics.
More than 65% of the trainees choose to involve themselves in batik, woodcraft and pottery. Most of the trainees start their business at the young age by using their own meager funds. Majority of their businesses is considered as small
potatoes although they have been operating for a long time. This situation could be improved by analyzing the intake of the trainees, and curriculum involves, developing a union for them and reorganize the marketing system for the goods
produced.
Actions (login required)