Mohd Zolkepeli, Abdul Rahaman (1998) Faktor-Faktor yang Mempengaruhi Pemilihan Guru Cemerlang. Masters thesis, Universiti Utara Malaysia.
PDF (Preview pages)




Mohd._Zolkepeli_bin_Abdul_Rahaman.pdf


Restricted to Registered users only
Download (1MB) | Request a copy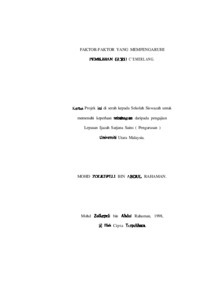 Preview
PDF




1.Mohd._Zolkepeli_bin_Abdul_Rahaman.pdf


Download (263kB) | Preview
Abstract
This research attempts to study the factors that in fluent the selection of excellent teachers from the students view. One hundred and twenty respondents of form four science and
arts stream, from five schools in Sik district, were randomly chosen. The data, which is based upon the 5 point Linkert scale, was collected and analyzed through descriptive and inferential statistics method using the SPSS software. Pearson Correlation, T-test and One Way Analysis of Variance (ANOVA) are used to test the hypothesis at 0.05 level of significant relationship among the factors of demography, personality, class management, teachers' teaching, interpersonal relationship (independent variables) and teachers' excellent leadership factors (dependent variables ).
Actions (login required)