Yaakub, Md Salleh (1998) Analisis Perbelanjaan Pendidikan dan Pertumbuhan Ekonomi Negara, 1970-1996. Masters thesis, Universiti Utara Malaysia.
PDF (Preview pages)




Yaakub_bin_Md._Salleh.pdf


Restricted to Registered users only
Download (1MB)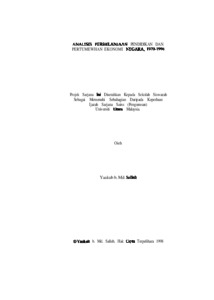 Preview
PDF




1.Yaakub_bin_Md._Salleh.pdf


Download (288kB) | Preview
Abstract
In the next millennium, public education will continue to play an important role as one of the social engineering strategies especially to fulfill the National Development Policy and realize the country's vision to become a developed nation. In order to implement such a role, education should be given priority in terms of expenditure and therefore be given a bigger allocation of public
expenditure. A qualitative study was carried out to analyze the trend of government expenditure on education as well as the distribution trend of education expenditure according to programme in the education sector from 1970 to 1996. A qualitative study was also carried out using the Auto regression Model (VAR) to analyze the causality relationship between the education expenditure and economic growth in the same time frame. The results of the study showed that the eduction expenditure has given a big and increasing allocation. The results were in line with the government's principle of universal education and to ensure that education will be able to fulfill manpower needs. The education expenditure distribution trend according to programmes showed that there was a focus towards technical educational programmes, higher learning and curriculum changes. The focus was made to upgrade the quality of education to produce skilled and semi-skilled
manpower in order to support the economic growth spurred by the rapid industrial growth. The empirical analysis of the educational expenditure and economic growth showed that there was no direct relationship between educational expenditure and economic growth although a spurious
relationship was found between them. Thus even though public spending on education may not cause national income directly, it can still influence economic growth indirectly through capital formation.
Actions (login required)