Ahmad, Ibrahim (2005) Education Management Information System (EMIS) : Requirements Engineering Towards a Web-Based System. Masters thesis, Universiti Utara Malaysia.
PDF (Preview)




ahmad.pdf

- Submitted Version
Restricted to Registered users only
Download (6MB)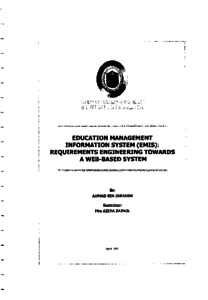 Preview
PDF




1.ahmad.pdf


Download (1MB) | Preview
Abstract
Education Management Information System (EMIS) is a distributed system developed by the Malaysian Ministry of Education (KPM). It is a tool used for collecting school data for supporting short and long term plannings, and educational researches. This system involves four levels: school, district, state and KPM. EMIS implementation at the school, district, and state level has encountered a lot of problems, especially those related to user requirement. Most of current EMIS processes involves users at the school, district, and state level. Hence, the study specifically focused on users need and the use of Requirements Engineering (RE) to rectify these problems.The objective of the study is to systematically document the new web-base system by using Unified Modelling Language (UML). Documenting the system requirement is very important in ensuring the success and continuality of the system. The study utilized prototyping as tools to obtain requirements validation. In addition, findings of the study also prove to top management the need to focus on the overall requirements instead of just a selected few. Apart from this, the importance of documentation in developing EMIS was also highlighted to the management. It gives guidance and idea for documenting requirements.
Actions (login required)