Azni Suhaily, Samsuri (2010) Earnings Management in Malaysia : The Role of Audit Committee Chairman. Masters thesis, Universiti Utara Malaysia.
PDF




Azni_Suhaily_Samsuri.pdf


Restricted to Registered users only
Download (612kB) | Request a copy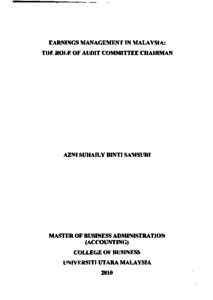 Preview
PDF




1.Azni_Suhaily_Samsuri.pdf


Download (213kB) | Preview
Abstract
This study investigates the relationship between audit committee chairman role and earnings management in Malaysia. This study specifically examines several roles of
AC chairman (accountant, former senior auditor, interlock and social status) on earnings management. The earnings management is refer as discretionary accruals on this paper. The measurement on discretionary accruals shown there is no impact on AC chairman role. However, other variables shown the relationship namely size of firm and return on equity of company with discretionary accruals. This study also contributes to the growing of the literature by representing the AC chairman and social status with regards on earnings management. The findings show no relationship with AC chairman and status that lead to earnings management. Thus, this study very important because the research are focus more on AC chairman itself
which has lack discussion especially in Malaysia studies.
Actions (login required)