Teh, Siew Hong (2000) Anteseden Tingkah Laku Kewarganegaraan Organisasi Di Kalangan Pendidik. Masters thesis, Universiti Utara Malaysia.
PDF




TEH_SIEW_HONG_-_Anteseden_tingkah_laku_kewarganegaraan_organisasi_di_kalangan_pendidik.pdf


Restricted to Registered users only
Download (11MB)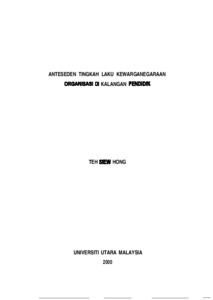 Preview
PDF




1.TEH_SIEW_HONG_-_Anteseden_tingkah_laku_kewarganegaraan_organisasi_di_kalangan_pendidik.pdf


Download (1MB) | Preview
Abstract
The objective of this study is to identify the antecedents for OCB (organizational citizenship behavior) among educators in secondary schools. Two instruments measuring OCB were administered to a sample of 278 teachers from eight secondary schools in Kelawai Zone, Penang. OCB
was measured by self-rating approach and a scale based on frequency was used in order to give a better representation of OCB practices among the teachers.
The study showed that our teachers practised OCB at quite a frequent level. The result also revealed that there were significant difference in OCB practice among different ethnic groups with the Indian having the highest mean score
followed by the Malays and Chinese. Men scored higher in OCB than women. Significant difference also existed among the different age groups when measured with OCBA. Those between 41 to 50 years old had the highest mean score while those below 30 years old scored the least.
Significant positive relationships also existed between OCB with motivation, fairness perception and organizational commitment. Need for achievement
had the strongest relationship with OCB among the three dimensions of motivation. For fairness perception, interactive fairness had the highest correlation coefficient with OCB.
Actions (login required)