Al-Naimat, Wael Ali (2010) Automated Online Questionnaire Development. Masters thesis, Universiti Utara Malaysia.
PDF




Wael_Ali_Al-Naimat.pdf


Restricted to Registered users only
Download (1MB) | Request a copy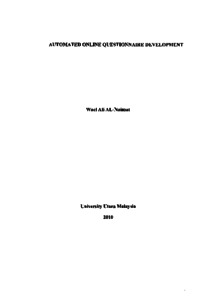 Preview
PDF




1.Wael_Ali_Al-Naimat.pdf


Download (161kB) | Preview
Abstract
Online questionnaire is an integrated survey management system that includes a range of technology to meet your survey and research needs. From target list integration to real-time feedback for respondents and automated analysis and reporting, Survey Suite provides a comprehensive solution to most survey requirements. This system developed the traditional questionnaire for researchers to increase the benefits of the system. Nunamaker method 1991 will be taken as the development procedure of this system. Rely on evaluation process the researcher found that, the researchers who using online questionnaire system were pleased and satisfied; the effectiveness of using online questionnaire system is so useful. The researcher considers that, the online questionnaire system as one of the education processes is important to help researchers to get easy way to the evaluation.
Actions (login required)