Nasrul Junaidi, Jaafar (2010) Heuristic Evaluation on Adapting Synthetic Phonic Method on Multimedia Courseware for Children Literacy Learning. Masters thesis, Universiti Utara Malaysia.
PDF




Nasrul_Junaidi_Jaafar.pdf


Restricted to Registered users only
Download (2MB)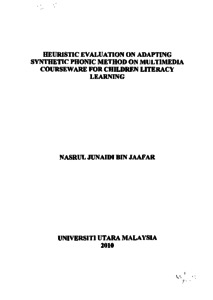 Preview
PDF




1.Nasrul_Junaidi_Jaafar.pdf


Download (252kB) | Preview
Abstract
This paper presents the adaptation of synthetic phonic method in the development of multimedia courseware. The purpose of this study is to develop a multimedia courseware
as a tool in teaching basic reading skill for children literacy learning. The courseware has been developed based on synthetic phonic teaching method. The courseware will be used by children. It highlights the letter sound correspondences so that children learn that the sound of a word corresponds to the letters in the word. The paper dwells on the advantages of using multimedia courseware in applying Synthetic phonic. The courseware is hoped to contribute a significant idea to the development of technology for children literacy learning.
Actions (login required)