A. Rahman, Zainol (2001) Keberkesanan Kursus Induksi Umum Kakitangan Kerajaan Kumpulan Sokongan : Pengalaman Perlaksanaan Oleh Institut Perguruan Kedah. Masters thesis, Sekolah Siswazah.
PDF




A._Rahman_bin_Zainol,_2001.pdf


Restricted to Registered users only
Download (6MB)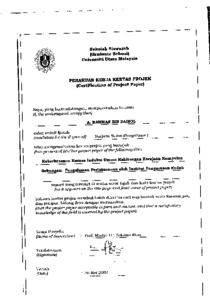 Preview
PDF




A._Rahman_bin_Zainol,_2001.pdf


Download (6MB) | Preview
Abstract
In general, this study aims to explore the effectiveness of induction course that were conducted by the Kedah Institute of Management to the public service personnel mainly the supportive group of course participants (the experimental group) and a group of non-participants (the control group). The non-participants respondents selected were the effectiveness is based upon the contact of respondents (experimental group) pre and post course perceptual changes. The findings are then compared with the perception of the control group for the same period of time. Model proposed by Kerlinger (1986) is the main reference of this study. Explaination and elaboration by Deees (1994) and Heiman (1998) is used to support the constructed model. Opinion from Yahaya (1998) and Sakaran is considered while making the justification of the population and the questionnaire reliability. Descriptive statistical analysis method, frequency, means and percentages were employed. Reference made from Rossi and Freeman (1993) in determining the significance difference outcomes toward making the conclusion, in relation to difference achievements between the two groups. There are two important findings resulted from this study. The experimental group showed and overall perception increase towards the course as compared to the control group. This indicates that the course conducted is effective. However, the increase in the perception of secondary objective of related exceeds the perception of primary objective is the main objective set by the government. The perception change towards primary objective should exceed the change of perception in the secondary objective.
Actions (login required)