Kaewsawat, Supreecha (2010) HIV/AIDS Preventive Behavior among Malaysian Male Tourists in Thailand. PhD. thesis, Universiti Utara Malaysia.
PDF




Supreecha_Kaewsawat.pdf


Restricted to Registered users only
Download (2MB)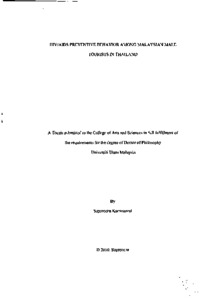 Preview
PDF




1.Supreecha_Kaewsawat.pdf


Download (339kB) | Preview
Abstract
Sexual behavior is a major social problem amongst male tourists. It can lead to negative outcomes such as disease and unwanted pregnancies. Many factors that may contribute to one's decision to engage in risky behavior have been examined in the literature. Theoretical models, such as the Protection Motivation Theory, have attempted to explain this behavior by conceptualizing the cognitive processes that occur when one makes a decision to use or not use protection. One' motivation to use protection is made up one's level of perceived risk of the threat and level of self-efficacy. The motives for sex, or reasons why one engage in sexual behavior, have also been found to be influential on one decision to engage in risky sexual behavior, lower condom use and alcohol/ drug use prior to sexual intercourse. This study aimed to add to the understanding of risky sexual behavior by establishing
a link between motivation for sex and the components of the PMT so that could be combined into a more cohesive framework for explaining risky sexual behavior. The sample consisted of 400 Malaysian male tourists visiting Thai-Malaysian border town. They completed a self-administered survey designed for this study that included measures of HIV/AIDS -related knowledge and component of protection
motivation theory (perceived susceptibility, perceived severity, self-efficacy and response-efficacy relating HIV/AIDS preventive behavior, and self-practice concerning HIV/AIDS preventive behavior. The results revealed that HIV/AIDS related knowledge was high level. The Malaysian male tourists in this study endorsed intimacy and the four components of PMT were high level as well. Most of Malaysian male tourists visited in sex industry were Chinese male tourists. The relationship between socio-demographic and self practice concerning HIV/AIDS preventive behavior was partial associated, and found that four components of PMT were associated with self practice concerning HIV/AIDS preventive behavior. When considered on the relationship between coping, threat appraisals with self-practice concerning HIV/AIDS preventive behavior was moderated by socio-demographic were found that there was associated hence, socio-demographic could explain this association. There are major important implications for theory developing form this study: (1) this results can aid social workers and other human service professional to increase their sensitivity and understanding of HIV/AIDS issues related male tourists, (2) Ministry of Public Health together with traveling authorities launches effectives
primary preventive measures and traveler who visit high prevalence countries should be more targeted. (3) This result could be used as guideline to improve sex education, counseling, developing strategies to increase condom use and surveillance by traveler's medical init or team. Moreover it should emphasize the self-awareness to have self practice concerning HIV/AIDS preventive behaviors.
Actions (login required)