Dalle, Juhriyansyah (2010) Metodologi Umum Penyelidikan Reka Bentuk Bertokok Penilaian Dalaman dan Luaran: Kajian Kes Sistem Pendaftaran Siswa Indonesia. PhD. thesis, Universiti Utara Malaysia.
PDF




Juhriyansyah_Dalle.pdf


Restricted to Registered users only
Download (2MB)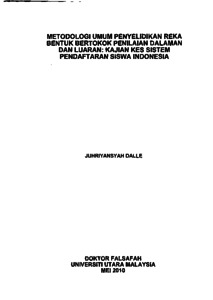 Preview
PDF




1.Juhriyansyah_Dalle.pdf


Download (499kB) | Preview
Abstract
This study is motivated by the fact that the software application and content industry advancement in Indonesia especially in the educational domain is rather limited. This has resulted in the deployment of low quality Information System (IS) for education management due to a poorly adopted system development approach. The statement is supported by many references including an example of a student registration IS (i.e. e-PSB) which did not focus on user evaluation; therefore has recorded many errors plus failed to provide a quality service; and was found to not practice a proper system development life cycle. Moreover,
literature reviews indicate that studies on the evaluation of IS have yet to determine the correlation between user satisfaction, perception and service quality factors. In regard to the above, the aim of this study is to propose a IS development approach model that pivots on user satisfaction, perception and service quality as the internal and external evaluation factors. In accomplishing the aim, three objectives are formulated; (1) develop a student registration IS prototype as a case study in Indonesia, (2) implement the internal and external evaluation of the prototype in a real setting, and (3) identify influential relationship between the user satisfaction, perception and service quality factors.
Quantitative and design research are the two main approaches followed through in this study. There are mainly three phases, (1) planning and analysis, (2) model and artefact development, and (3) implementation, data collection and evaluation. Data are collected using internal and external evaluation instruments. The internal evaluation is based on the Technology Acceptance Model (TAM) and Questionnaire for User Interaction Satisfaction (QUIS). The external is rooted on the Service Quality (SERVQUAL). Altogether 471 respondents participated where 462 are from Banjarmasin, South Kalimantan, lndonesia and 9 are experts. T-test, ANOVA, correlation and regression analysis are utilized to prove 11 hypotheses. The internal evaluation factors are divided into perceived usefulness (PK), perceived ease-of-use (PKG) and user interface satisfaction (KAP). Whereas, the external factors are divided into quality service (KS), overall perception of
quality service (PKS), and overall satisfaction of quality service (KKS). The hypotheses testing show that (i) PKG and PK are significantly correlated, (ii) PK and KAP are significantly correlated, (iii) PKG and KAP are significantly correlated, (iv) PK and PKG together influence KAP significantly, (v) KS influences PKS significantly, (vi) PKS and KKS are significantly correlated, (vii) KS influences KKS significantly, (viii) KS and PKS together influence KKS significantly, and (ix) KAP influences KKS significantly. The proposed IS development approach model, which can be utilized by fellow developers and researchers to develop an IS that focuses on the internal and external evaluation factors, is the main contribution of this study. Furthermore, the prototype, that is named as PSB Terpadu and the identified relationships between the internal and external factors contribute to the software application industry, specifically in Indonesia.
Actions (login required)