Norashikin, Ibrahim (2010) Pemantapan Ekonomi Masyarakat Melalui Skim Al-Rahnu. Masters thesis, Universiti Utara Malaysia.
PDF




Norashikin_Ibrahim.pdf


Restricted to Registered users only
Download (698kB)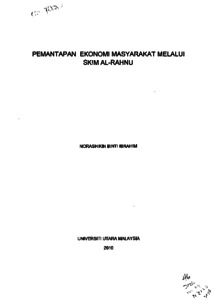 Preview
PDF




1.Norashikin_Ibrahim.pdf


Download (144kB) | Preview
Abstract
The purpose of this study was to look at how the Islamic pawn or al-Rahnu into a micro-credit loan scheme which is vital for low-income earners to meet the immediate cash requirements to complete the project of economic and
educational needs of children. Five objectives to be achieved by the researchers that the level of customer satisfaction with quality of service, the quality of services provided by the Islamic pawnshop, different levels of customer satisfaction Islam based on demographic factors, the relationship between service quality and customer satisfaction levels of service quality dimensions that influence the customer satisfaction. Population satisfaction survey of 156 customers using the service of al-Rahnu YAPElM Changlun and branches of Bank Jitra, Kedah using convenience sampling technique(Convenience Sampling). Data collected were analyzed using the program Statistical Package for Social Science (SPSS). The study has shown that customer satisfaction is high on the score of 67.9% regression analysis. Empathy factor, reliability and
compliance are critical factors in this study. In conclusion, the customer is satisfied with the quality of services provided by al-Rahnu YAPEIM and Bank
Rakyat branches Jitra.
Actions (login required)