Noorhazeira, Noor Izahar (2011) Web-Based Academic Management System (WAMS). Masters thesis, Universiti Utara Malaysia.
PDF




Noorhazeira_Noor_Izahar.pdf


Restricted to Registered users only
Download (1MB)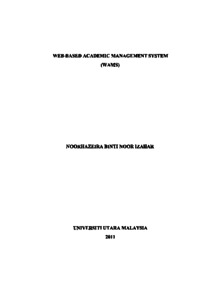 Preview
PDF




1.Noorhazeira_Noor_Izahar.pdf


Download (202kB) | Preview
Abstract
This paper reports an ongoing study carried out in response to the issue of efficiency among lecturers. Every year, lecturers produce academic information as part of their excellence indicator. lnformation about the documentations is required a few times before every year end, such as for performance evaluation and directory of expert update. Currently, lecturers abandon the records of their academic information and documentations. However, results from a preliminary study show that they would prefer to record each of academic information timely so that gathering them will be easy. Accordingly, this study proposed a prototype system called Web-based Academic Management System (WAMS) to be designed and developed and measured how useful it is in solving the identified problem. Qualitative techniques such as interview and observation have been used for gathering data on the requirement.
Actions (login required)