Azeez, Hayder Hussein (2011) Implementing Additional Security Measure on ATM Through Biometric. Masters thesis, Universiti Utara Malaysia.
PDF




Hayder_Hussein_Azeez.pdf


Restricted to Registered users only
Download (1MB)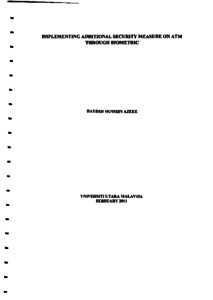 Preview
PDF




1.Hayder_Hussein_Azeez.pdf


Download (193kB) | Preview
Abstract
With the development of computer network technology and e-commerce, the self-service banking system has got extensive generalization with the characteristic offering high-quality 24 hours service for customer. Nowadays, using the ATM (Automatic Teller Machine) which provides customers with
the convenient banknote trading is very common. However, the financial crime case rises repeatedly in recent years. A lot of criminals tamper with the ATM and steal user's credit card and password by illegal means, Once user's bank card is lost and the password is stolen, the criminal will draw all cash in the shortest time, which will bring enormous financial losses to customer. How to carry on the valid identity to the customer becomes the focus in current financial circle. Traditional ATM systems authenticate generally by using the credit card and the password, the method has some defects. Using credit card and password
cannot verify the client's identity exactly. In recent years, Biometric systems, fingerprint technology in particular, can give the possibility to develop a system of protection in ATM machines.
Actions (login required)