Salina, Ibrahim (2011) The Relationship Between Office Ergonomics Practices and Job Performance Among UiTM Shah Alam Librarians. Masters thesis, Universiti Utara Malaysia.
PDF




Salina_Ibrahim.pdf


Restricted to Registered users only
Download (564kB)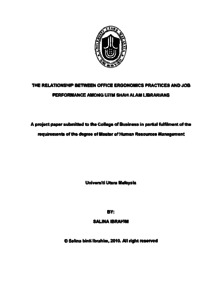 Preview
PDF




1.Salina_Ibrahim.pdf


Download (106kB) | Preview
Abstract
Much attention has been focused on relationship between office ergonomics practices and job performance. However; relatively limited studies focus on library area especially in Malaysia. The purpose of this study is to examine whether all five independent variables influence job performance among 140 UiTM Shah Alam librarians. Data were gathered through questionnaires and was being analyzed by using Statistical Package for Social Science (SPSS) version 12. Based on the analysis it was found that factors that contributes to the existing of ergonomics program, ergonomics practices, ergonomics practices in workspace design, ergonomics practices in office equipment and level
awareness of office ergonomics practices each made significant contribution independent variables. Hierarchically, these four independent variables are found to be among the strongest variables to compliance with job
performance in this organization. Recommendations and implications for future research and practice were also discussed.
Actions (login required)